The Kona Branch was chartered in 1971, joining the Hilo Branch to serve the women of the Big Island.  Growing from less than a dozen, our membership currently approaches 80!  Most of Kona's members are retired, but several remain active in their careers.  We have many members who are "snowbirds", spending only the winter months in Hawai'i.  Our common bond is our mission: to advance equity for women and girls through advocacy, education, research, and philanthropy.  We particularly focus on education, providing annual scholarships to high school graduates and monthly story times to pre-schoolers.  The biggest event each year is GEMS (Girls Exploring Math and Science) which is a full-day, hands-on educational opportunity for 5th grade girls provided by women who use these skills in their occupations.  For more information, see the GEMS drop-down menu.
We are an active group of intelligent women with boundless energy and a passion for service.  We believe in equality and life-long learning.  We enjoy each others' company whether in work or play.  Our motto is "Fun  – with a purpose!"  Come join us.
For more information, contact Linda Arlington (President).
Planning Retreat 2019 will be held on July 3rd 
After last year's success, AAUW-Kona has decided to make the Planning Retreat an annual event.  All members are invited to express their opinions and share their ideas for our 2019-2020 calendar.  We will start at 9 AM and finish in time to go to lunch together (optional). RSVP to Linda Arlington, our hostess, and get directions to her home.
Teaming Up with HawaiiCC Palamanui
Along with our new scholarships focused on community college attendees, AAUW-Kona is interested in mentoring students currently at UHCC Palamanui or those who plan to attend.  To this end, we recently heard from Wailani Walker, a Palamanui counselor, about his personal story and his work at the school.  Dr Rebecca Durrer also spoke about helping in the application process. For anyone interested in tutoring, mentoring, or any kind of support, contact one of the following: Linda Arlington (linda.j.arlington@gmail.com ), Madalyn McWhite-Lamson (madmclam@gmail.com), or Jamie Pardau (jpardau@gmail.com)
We will team you up with an appropriate mentor!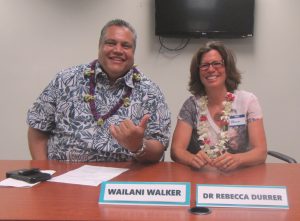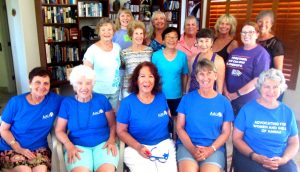 The Board of Directors invited all interested branch members to attend a 1/2 day retreat to re-examine our priorities and plan accordingly for the 2018-2019 calendar of events.  Fifteen women shared the excitement first ignited by our AAUW CEO, Kimberly Churches, at the state convention.  Focusing on MISSION, NOT MEMBERSHIP was the key idea.  All attendees felt that the morning was well-spent.
Even with the focus on mission, one new committee was formed to enhance membership:  A Welcoming Committee!  Members of this committee will be given names of new members so that personal invitations to events, offers of rides, and greeters can ease the way into our large and friendly group.  This committee will be chaired by the VP Membership.  Inactive members will also be contacted with the goal of encouraging more participation. If you are an AAUW-Kona member and would like to join this committee, contact Jamie Pardau.
Rough Draft of Calendar – details to follow
September:  Panel discussion – Women in Leadership
October:  Ironman Finish Line fundraiser
November:  STEMS in the Schools of West Hawaii
December:  GEMS – Girls Exploring Math and Science on Dec. 4
January:  Bi-Branch Luncheon –  Hilo hosts at the Hilo Yacht Club
February:  Women and Health Issues –  a panel discussion
March:  International Women's Day – Jackie Kalani will speak about Matriarchy Rising, a local women's advocacy group
April:  Wailani Walker (counselor from HCC Palamanui) will speak about his educational experiences and mentoring opportunities at HCC Palamanui
May:  Annual Meeting and Lunch at Ke Kai Ola with presentation about educational outreach
June:  Scholarship Reception and Installation Dinner
HOLIDAY PARTY RETURNS TO ROYAL KONA RESORT– in DECEMBER TBA
KONA HOSTED THE STATE CONVENTION THIS YEAR, APRIL 27-29

.  Below:  a group photo, AAUW CEO Kimberly Churches, Dr. Jennifer Stotter from UH Hilo, Leslie Wilkins from Maui Economic Development Board with intern Manda Tong.