We are thrilled to present the five 2022 Kona AAUW Scholarship recipients. They are: Camylle McDonald, Kealakehe High School graduate; Keilana Storm Riveira Crane, who has complete her second year at Palamanui Community College and received her Associates of Arts Degree; Jamielyn Margheim and Leiya Margaret Terrano, both graduates from Honoka'a High School; and Kailena Akau, a graduate from Hawaii Preparatory Academy.
Three $2,000 scholarships were awarded, along with two $1,000 scholarships for Hawaii Community College – Palamanui.
Camylle plans to attend the Georgia Institute of Technology and major in Mechanical Engineering.
Keilana plans to continue her studies at Palamanui, as she prepares for a career in the medical field.
Jamielynn Margheim, plans to attend the University of Wyoming, and pursue a major in General Education.
Leiya has been accepted at the University of Hawaii and will major in Business.
Kailena plans to attend the University of Hawaii at Manoa and major in Hawaiian Language and Business.
Due to COVID, we were unable to honor them in person, but each girl received a $25 gift card to Gypsea Gelato.
These recipients are all high achievers and we wish them well!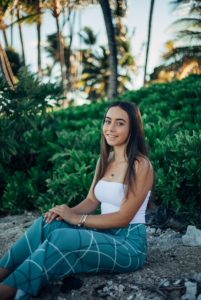 Camylle McDonald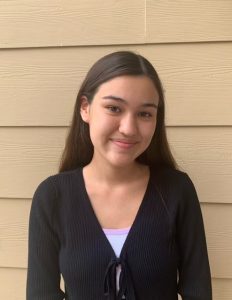 Keilana Storm Riviera Crane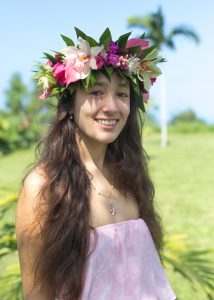 Jamielynn Margheim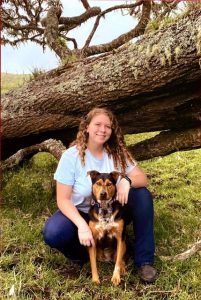 We have no phot of Leiya Margaret Terrano.  Sorry!
Our 2021 $2000 Scholarship Recipients were:  Alianna West Rodrigues, Anastasia Benbouzid-Hewitt and Tiara Quintal.
Our Palamanui $1000 Scholarship Recipients were: Keilana Crane and Aelyn Ibarra-Medina.
Donations to our Scholarship Fund can be made by writing a check to AKEF and mailing it to AAUW-Kona at P O Box 390487, Keauhou, HI 96739.  All donations to the non-profit, AKEF (AAUW-Kona Educational Fund) are tax-deductible.  We appreciate your support.
We are proud to announce the recipients of our FIVE 2019 Scholarships.  Three high school graduates will receive $2000 toward their expenses at the college or university of their choice.  Two recipients will be awarded $1000 toward tuition at Hawaii Community College Palamanui.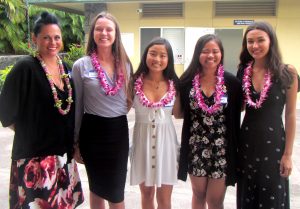 Stephany Hayes, Sonya Becker, Julia Lim, Tiffany Bayudan, and Kiyono McDonald at reception 
Tiffany Bayudan was one of the top students in her class at Konawaena HS and plans to attend Pacific University and study to be a pharmacist which she sees as "a perfect blend of math, health, and science." She participated in many extracurricular activities including Big Sisters/Big Brothers, interned at West Hawaii Community Health Center, is secretary of the National Honor Society, is active in St Michaels Youth Ministry. She also tutored middle school students, volunteered at Ironman, did beach cleanups, volunteered at Life Care Center, the Kona Coffee festival, Relay for life and other events. She credits her parents for molding her into the type of person she is today. References describe Tiffany 's solid work ethic and willingness to put in the effort necessary for college level courses , her positive attitude and willingness to help her peers in a humble caring way. We are happy to provide this exceptional young woman a scholarship and know she will do great things.
Julia Lim was one of the top students at Konawaena HS and plans to attend Williams College and study political science and economics and wants to be a US representative or Senator. She was in ROTC and a battalion commander, and captain of rifle and drill team. She was treasurer of the National Honor Society, President of the Leo club, active in Big Brothers/ Big sisters, and the National Youth Leadership forum .She received multiple academic awards and other honors:  athlete of the year, cadet of the year, expert marksmanship, and was an intern with Senator Brian Schatz, as well as worked as a waitress after school  ,and performed over 300 hours of community service. Julia "wants to make a difference" and enjoys public speaking and debate. A reference says she "will make a significant impact on the world and  any community she is involved in". We know she will achieve her goal.
Kiyono McDonald was a top student at Kealakehe HS and wants to attend Georgia Institute of Technology or Princeton and study Molecular Biology and co-major in a certificate program in the art field which she loves. She enjoys a challenge and "pushes herself out of her comfort zone". She has received many awards including AP Scholar with honors, a judges Choice Awards at an art exhibit, Most Outstanding Honors chemistry student, Award for musical excellence from Hawaii Youth Symphony, and Outstanding Accomplishments in Stem After School Program. She was a Varsity bowler, involved in Robotics, was an intern and teaching artist at the Donkey Mill Art Center in her summers, and also taught martial arts. A reference states she is "incredibly gifted in the realm of creativity and design" and has a "finely tuned moral compass."     With these traits, she will go far.
Sonya Becker attends WHEA and will go to Palamanui to take prerequisites for the AMT (Auto Mechanics Training) and study business so she can open a mechanic shop. She grew up traveling around festivals in British Columbia and living in a school bus and log cabin and had absence of regular schooling until 5th grade. She learned about money management, how to plan, self-reliance and independence. She started WHEA in 11th grade and created a project where she could study mechanics and get credit for her work and receive guidance. She works 5 days a week at O'Reilly Auto parts. She has a diverse skill set from life experiences and takes pride in her interpersonal/ communication skills. She has volunteered at beach cleanups and the Green market each Sunday. Her references describe "a strong acuity for business, entrepreneurship, and leadership". She expands her knowledge by participation in education programs at work. We respect her ingenuity and know where we can take our cars in the future!  Linda Arlington, Sonja Schmitt, and Jamie Pardau attended an assembly at WHEA to present Sonya with her scholarship certificate.
Stephany Hayes is in her 2nd year at Palamanui and started her college experience at 43. She has a 3.91 GPA at college.  She was a single mom and raised 2 children with a series of dead-end jobs. She was a poor student as a child and by high school had given up on herself, but started Palamanui where she gained confidence and realized she was "smart enough" and received affirmation in her goal to become a teacher.  She has been an active volunteer since age 17, and has lived in Hawaii 10 years. She has volunteered in MADD in Hawaii as a victims' advocate since the loss of her brother and was a motivational speaker and honored by MADD as volunteer of the year. Since 2017 she has worked part time on campus. The act of giving back to the community has been a big part of her life. She is working on a liberal arts degree while planning for a bachelor's degree to become a teacher and eventually a masters degree in education. Since being at Palamanui, she has begun volunteering on campus restoring the ancient Hawaiian trails and doing weekly beach cleanups. She recently received an Award from Rise Organization for her volunteer work. She actively demonstrates her desire to give back to her community.
Photos will be posted after our June 4th Scholarship Reception.
                 AAUW KONA BRANCH ANNOUNCES 2018 SCHOLARSHIPS
Each spring the Kona Branch offers scholarships to  graduating senior girls from West Hawaii high schools who will be attending two- or four-year college or university  In 2018, three $2,000 scholarships were awarded.
The criteria for selecting scholarship recipients are academic achievement; involvement in extracurricular high school activities, community organizations, and/or employment experience; educational and career goals; and financial need.
Maya Gee graduated 2nd in her class from Kealakehe High School.  She was the team captain on their Model United Nations team, participated on the Robotics  and STEM teams, and swam for both the varsity and club swim teams.  Maya plans to attend Middlebury College in Vermont and return to Hawaii with the eventual goal of improving public education in our state as the Superintendent of Schools.
Naia Morse also graduated from Kealakehe High School.  She was an Interact volunteer, on the student council, a member of the National Honor Society, and a Lifeplan mentor.  She was the president of the Student Credit Union board as well.  Her college plans are to study chemical engineering and international business at Dartmouth College.  Her future is directed toward creating a healthier Earth and a preserved and protected Hawaii.
Maya and Naia are in the second photograph with Madalyn McWhite-Lamson and Helga Hans.
Zhanelyn Cacho (seen in the top photo with Linda Arlington) graduated from Honoka'a High School at the top of her class.  She is a first generation immigrant from the Philippines who arrived in Hawaii at age 4.  She served as yearbook editor, is proficient in three instruments, and has won many awards including speech, Robotics, and citizenship.  Zhanelyn plans to attend Georgetown University to study law.  Her passion is for justice, equality, and fairness.  Her goal is to return to Hawaii as a government attorney and work in public policy.